Hey Steem frens! It's time for another crowdfunded first aid kit update! :)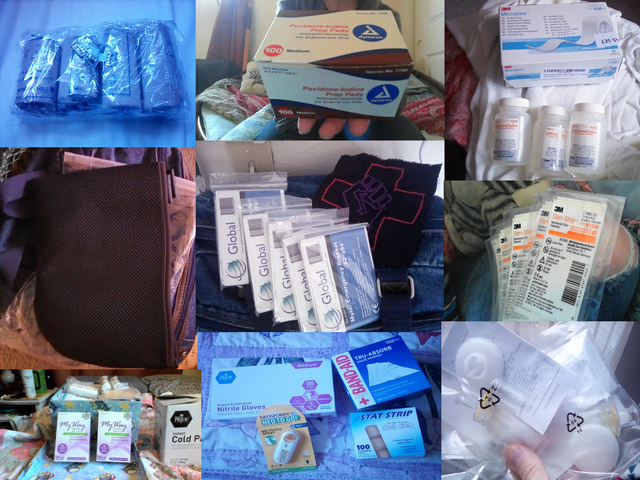 My goal has been to get kitted out, having taken first mental health first aid and then regular Red Cross first aid, so that I can help my community when they are in need of first aid. But I am hella poor, so it's the Mutual Financial Aid for Mutual Medical Aid kit. :) #upfundme is a crowdfunding platform on Steem to help people fundraise for their projects and goals! Every upvote helps, and I appreciate all of you who have supported me.
Let's Do Some Math
Last week's post has paid out:
21.829 Steem from @shanibeer @ 12 cents/Steem = $2.62
4.0 Steem from @marblely @ 12 cents/Steem = 48 cents
74 cents in Steem (post payout)
7.593 PAL @ 0.00958 cents/PAL = 7 cents
76.51514982 UFM @ 0.00103 cents/UFM = 8 cents
===================================================
$3.99 for the week!
plus
$10.44 from previous four weeks = $14.43 toward $26 goal, so $11.57 to go!
THAT BEING SAID, the N95 masks seem to have fallen off the "$25 order = free shipping" bandwagon after fluctuating in price and even disappearing entirely once over the past few weeks. Currently I see an offer for $17.68 (including tax and with free shipping) as the best offer.
My goal of $26 was to get the N95 masks and a tourniquet based on their prices and shipping when I started this leg of the kit fundraising: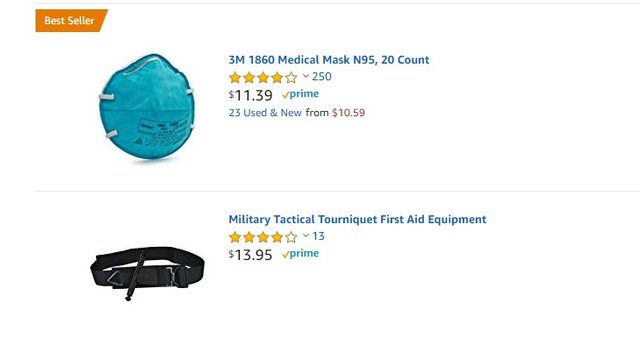 I'm going to hazard a guess that N95 masks are suddenly running out of stock and going up in price because, you know, Australia is on fire. I want them in the kit because I want to take the kit to protests and though I've never been to a protest that got dangerous myself yet, here in the States the cops can be a little happy with their teargas, ya know. So I'd like to be prepared both for me and for other protesters, just in case shit goes south.
Soooooooooooo I went ahead and ordered those $17 ones, using some leftover gift card I had to cover the rest: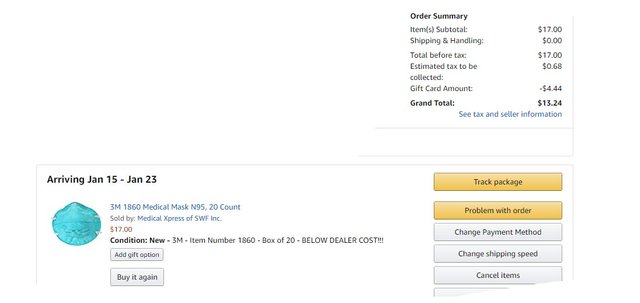 Because I didn't want them to become unavailable again. So if I could go ahead and apply this week's fundraising to that $17.68 even though I already ordered, that would be appreciated because I really am poor and trying to save up money to take Maggie to the vet so every dollar counts. :)
So in that case, my goal right now is $17.68 - $14.43 already raised, or $3.25. I figure I'll call it "close enough" after this week and then make a new goal for what's left on the list (which is now tourniquet, alcohol prep pads, emergency water filter, and antacid [the antacid is also for tear gas, and will be gotten at the dollar store hopefully? Because when I tried looking for the recommended kind on Amazon to put on the wish list there was like one price gouging option and it was a dollar store brand, sooooo I'm gonna go look there for it, I just haven't been to a dollar store in a while]). The link to the wishlist on Amazon: Mutual Financial Aid For Mutual Medical Aid
So HOORAY, another item is ordered for my first aid kit! :D Thank y'all so much!
Have a wonderful week and be safe!