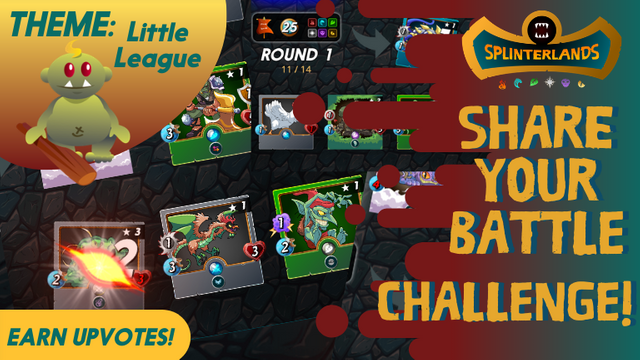 Create a post sharing a video of one of your battles using the Little League ruleset
[img]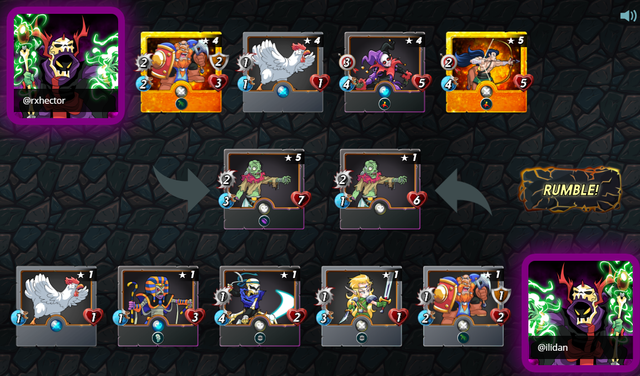 [/img]
https://steemmonsters.com?p=battle&id=e5087c0a9154899e0b98edbb862594ebcaa645b5&ref=rxhector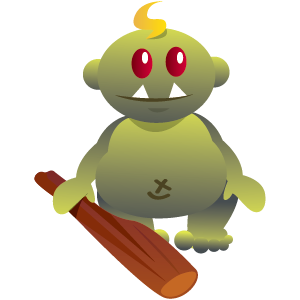 Explain your line up. Why did you use certain monsters in specific places?
Animated Corpse - decent tank for little league
Grumpy Dwarf - reach is awesome
Furious Chicken - i put him here to soak up a lil damage before the ranged attackers
Twisted Jester - fast sniper
Centaur - another fast sniper
Did your strategy work? What will you try differently next time?
I got lucky on this one - i outclasssed the opponent a few levels
Do you LOVE or HATE this ruleset?
I like all the rule sets - you gotta take the good w/the bad sometimes.
Little league is a good challenge - it's better when the mana is high-enough to at least fill all your slots
LOVING IT !!!
https://steemit.com/splinterlands/@splinterlands/tpzwq-share-your-battle-weekly-challenge-win-upvotes
Tag splinterlands and spt.


The easiest way to help the broke carpenter is an upvote and maybe a resteem.
The next best way is to sign up for the fastest dex on the planet - bitshares - https://wallet.bitshares.org/?r=rxhector2k5
Projects you may end up funding
Better Server
Better network equipment (better switch/router)
Better drives (need storage space on servers - thinking about a boinc node)
Future servers / vms / dev machines
Need to run a bitshares node
Need to run a steemit node
colocation = $650/mo
server = ???? (cluster @$5k/ea)
bills = $2k/mo
unemployment ain't gonna fix that
i got a few website/gamification ideas - but need to get network and nodes running better before jumping back to development environment

]
[

]
(https://steemit.com/basicincome/@steembasicincome/steem-basic-income-a-complete-overview)
#life #of #a #broke #carpenter #posting #ulog #for #steemit #basicincome
© rxhector
peace ;)