The Peace silver dollar, designed by Anthony DeFrancisci, was first produced in December 1921 following a large mintage of Morgan dollars that same year.
The idea was for it to be a coin commemorating the peace following World War I.
Peace Dollars were struck without interruption from 1921 to1928, then again in 1934-1935. U.S. Mints that produced Peace Dollars include Philadelphia, San Francisco and Denver.
It weights 26.73g with 90% silver purity.
I am basically a commemorative collector but I have a few Morgan and Peace dollars, slabbed and not slabbed and I will show you some of them.
This is the MS-65 1922 Peace Dollar, slabbed by NGC (Numismatic Guaranty Corporation), one of the two largest third-party grading service for coins, tokens and medals (the other is PCGS).
The Philadelphia Mint issued a total of 51,737,000 units and NGC graded 15,215 as MS-65, with 1,532 graded above. NGC has graded 210,316 coins in mint state until today (11/08/2019).
The 1922 Peace Dollar has the highest mintage of any Silver Dollar, and it remains the most common date in the Peace Dollar series.
Today's price is around $150.00.
The Peace dollar's obverse depicts Miss Liberty, facing left, wearing a diadem of spikes (in somewhat similar style to that seen on the Statue of Liberty).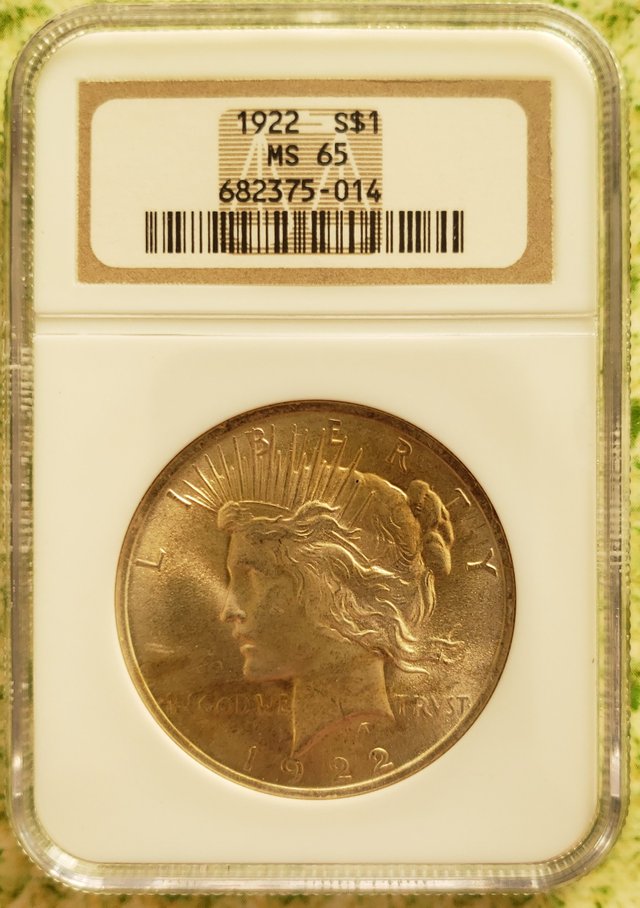 The reverse shows an eagle perched on a rock, with a laurel branch, and with PEACE inscribed below.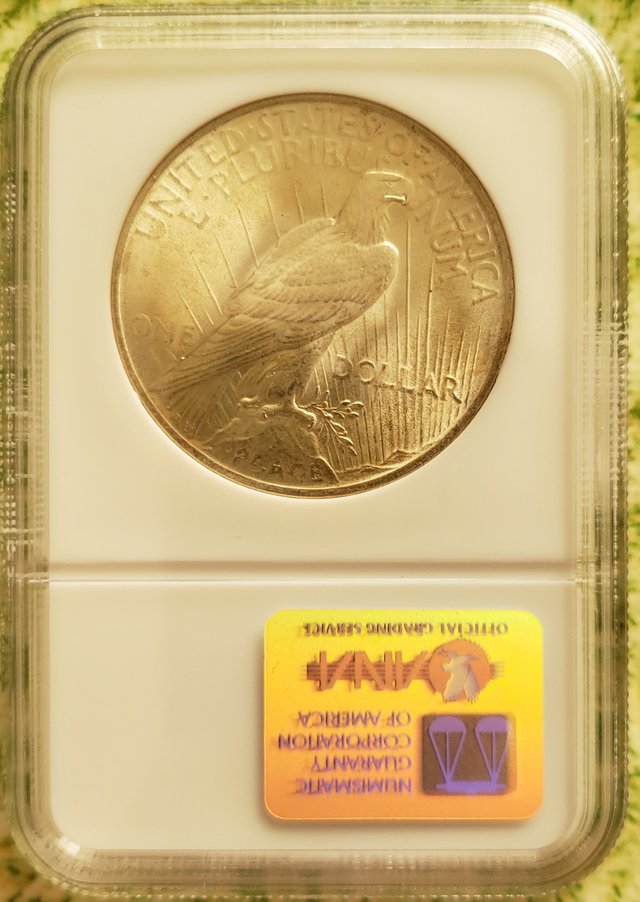 Thank you for reading. Please comment, upvote, resteem and advise me.