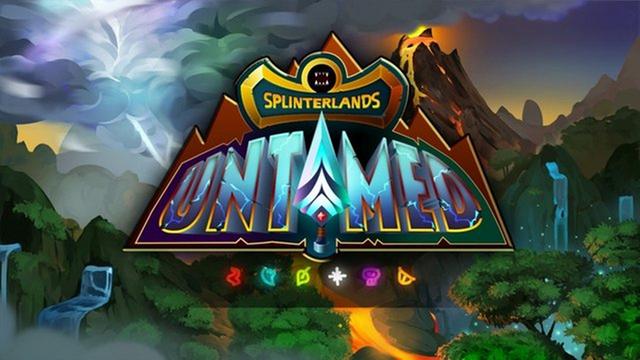 I am going to start a few posts about the new rewards cards on the market. I am glad so many of you liked the Untamed ones. I will do a post soon with all of those ones in case you missed them. Once again I am giving away 500 DEC to someone that gives my post a real comment with feedback on the review or about the game.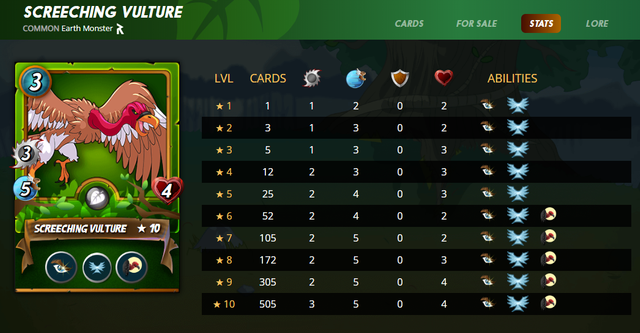 Sceerching Vulture isn't brand new but I haven't talked about him yet. This is a really nice card considering it is common. 3 cost lets him play in little league also. The card is fast and flys so sometimes it will be hard for others to hit. It has opportunity and scavager. That is a nice combo to pick off weak guys and get an extra life. You will need him at level 4 so he had at least 2 attack but after that, you can fit him into a lot of matches. If you play maxed out earth team then you will want him level 10 for that last attack point. Then he is a monster with even cost to attack. Those are great for lower mana games.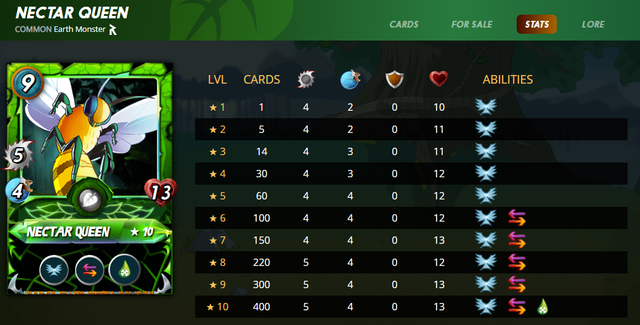 Nectar Queen just makes Earth that much better for the 99 mana matches. This card cost a lot so you can't always play it. Yet when you can it is a strong card. This will be really good in no mages matches. Also, it will be a nice addition to earthquake games. Retaliate is a very powerful ability on a guy with at least 4 attack. One bummer is that you will need a lot of this new card to get that ability. It will be worth it to push for level 6, then if you can play it at level 8 that is the next goal to get 5 attack. Is it worth the max out at level 10? I say only if the cards are cheap. Poison is nice, maybe even great. But you already hit for 5. If you want to use this a lot then it is worth it.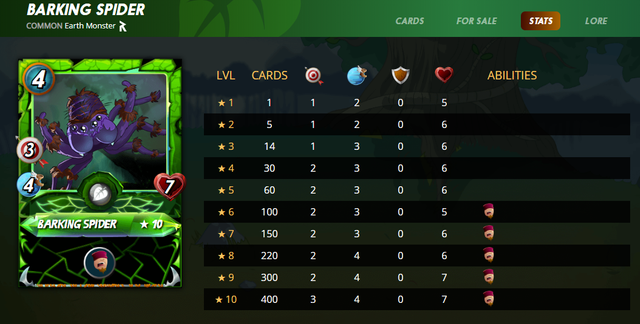 Barking Spider is a nice card. Another one for little league games and it has blind. I haven't used blind a lot but it does seem to make the other team miss. He can get a nice strong ranged attack. Also, come on 7 life for 4 cost that is great. I would aim for level 7 to get him to that 6 life and have blind. It is a pretty simple card and you will be glad to have it a good level. It will help with low mana games also. And in a no ability game not a big deal as he only loses one and will take a lot to kill.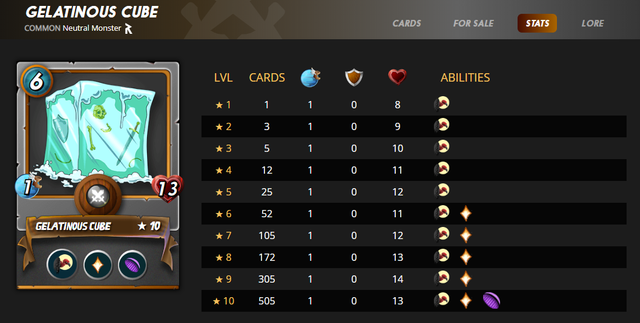 Gelatinous Cube is a nice tank card. WIth scavenger and self-heal he is going to take a lot of hits. He has void so that mages won't kill him too fast. He will be a good combo with guys with headwinds to make sure a strong range doesn't kill him fast. I have seen this guy just be unkillable in some games. He is a good one for no abilities matches if you don't have the giant. This one isn't super new but I think I forgot to talk about it before. You will want one more healer to pull that off and you want it to be faster than him so it will heal him early and he will heal last.

All of these common cards are good. You can play all of them. With the new loot format it is going to take longer to get them so it might be time to buy some while they are cheap if you like the cards.
I am a member of the CCC group also. I am always trying to support others here with my giveaways. This is a Contest Kings giveaway No Upvote, No Follow, and No Resteem are needed to join
This is an Invitation to join #ccc for Guaranteed 👍 Daily Income 💵 and Payout 💸 for Newbies (2.0) 🐟 🐜 🐛 in #ccc 👣 and Follow 👣 the Honor Code 🏅 - the Creed (Conditions and Limits Inside) AND the latest update <<< please click to read.
I am now going to recap a past giveaway so you don't need to look one unless you want to see who won the giveaway from this post.
Winner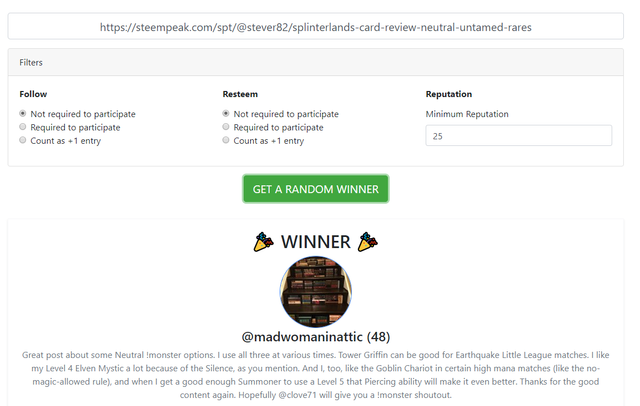 Congrats to @madwomaninattic
Sorry can't get a picture but I did send them.