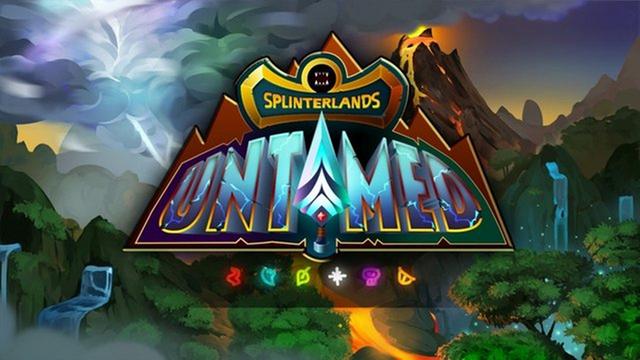 I am sorry. I have been really busy but its time for the last review of Untamed Cards. I will do more reviews just done with the set. It has been fun doing this and I have to say a big thank you to everyone that has been checking them out and supporting me. As this is the last one I am going to up the prize to 1000 DEC for someone that gives me some good feedback about the post or the game. A lot is going on right now and I know that I am behind a little.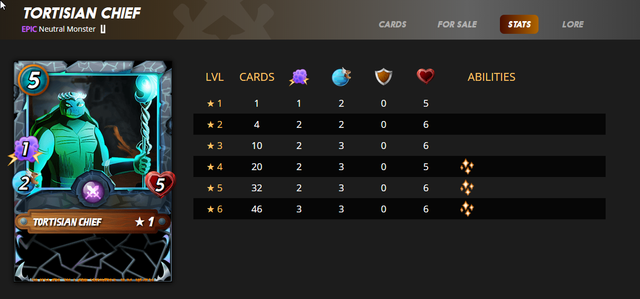 Tortisian Chief is a great card to have. It is also nice that at level 4 it is strong. It gets a tank heal with okay damage and good hp. This card feels a bit like a neutral Wood Nymph. I know he doesn't get a second ability but he does a bit more damage and has higher base hp. A neutral healer card is special. It allows any team to go double healer and some to go up to 3 or more healers. It also gives newer players a much-needed tank healer if they don't want to invest in one for each team. Then they can just get this guy and they are good. I mean they have to have summoners to play him at level 4. So the won't replace healers for lower level players. I have to admit I didn't know this guy was a healer until today and now I plan to level him up soon.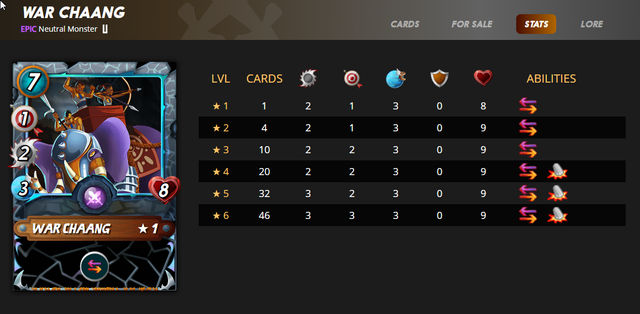 War Chaang is a fun new card. He is the first Ranged and Melee attacker I have seen. He is a great card for higher mana matches and super good when Melee can attack from anywhere. There are a few formats that allow that. Even in Melee only he is a guy who can attack from the back row and only a few can do that in a no abilities game. Add into that retaliate and trample and he can be a beast. This is just a fun card to have one your team to use in a lot of the new formats and high mana matches. You will also want him at least level 4 to get trample after that you can use him. At 5 and 6 he gets better so that is nice to see. I will max this guy out I am sure. Just not sure when.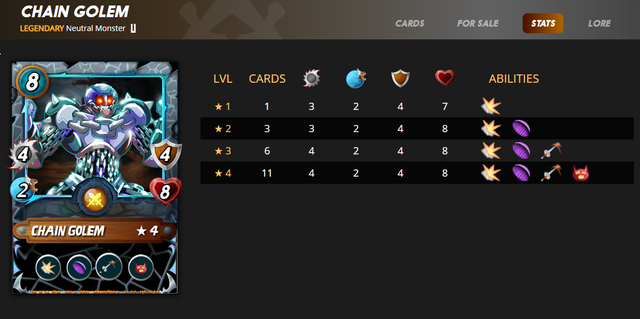 Chain Golem came from the kick starter but is part of the set. A lot of people have this card for sure. He is a really good tank in a lot of formats. I like using him on my Death team when mana is high. Now that I have some other healers for the team I don't have to use Haunted Spirit. He has Void and Shield with armor so don't expect him to die fast. Add in a nice strong attack with pricing and stun and he can be a force on the battlefield. He is also a nice card to toss in those 99 mana matches if melee can attack from anywhere. For now, this card is cheaper than it should be. A lot got them in the kick starter. Over time I think it will go up a lot. So you might want to get one to at least level 3 soon if you don't have it.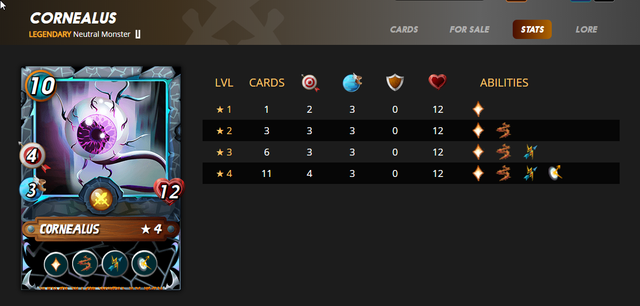 Cornealus is a very strong card. He will show up a lot in high mana matches and in ranged can attack from anywhere he can be you tank. With self-heal, torns, return fire, and magic reflect, It is meant to tank hits for anyone and send them back damage. With 12 HP it will take a lot of hits to kill him. Add in a strong attack and you see why he cost a lot. He can be the last position and kill both melee sneak and magic sneak monsters with return damage. He can sit in your number 2 spot and bounce back both ranged and magic sniper damage. So there are 2 greats spots for him. If he falls into your tank spot and can't attack he will still deal back a lot of damage. Also with another healer, there is a good chance the attackers will die before this guy guys. This card costs a lot for this set at over 6 bucks a card. But having him and not having him will cost you a win or loss in 99 mana game. So if you get him in a pack I would hold onto him. If you want to be a top player you will need to buy him.

I hope you see what I see. That is Strong Neutral cards. These and all the others show that they are making sure that the neutral cards are very playable. Over time they should go up as you can use them with any team. But let me know what you think.
I am a member of the CCC group also. I am always trying to support others here with my giveaways. This is a Contest Kings giveaway No Upvote, No Follow, and No Resteem are needed to join
This is an Invitation to join #ccc for Guaranteed 👍 Daily Income 💵 and Payout 💸 for Newbies (2.0) 🐟 🐜 🐛 in #ccc 👣 and Follow 👣 the Honor Code 🏅 - the Creed (Conditions and Limits Inside) AND the latest update <<< please click to read.
I am now going to recap a past giveaway so you don't need to look one unless you want to see who won the giveaway from this post.
Winner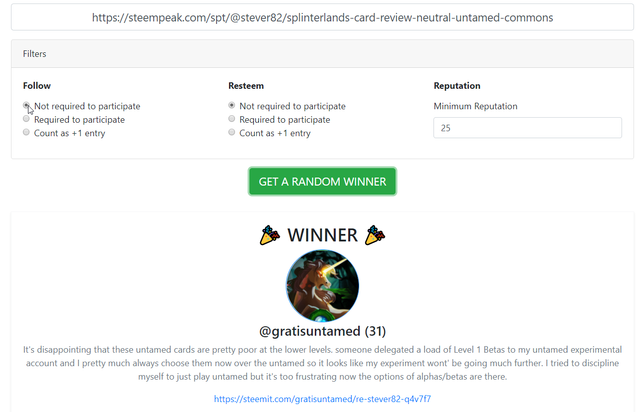 Congrats to @gratisuntamed I get what you said. It is right about the cards now.