---
Splinterlands Total Market Cap Report:
$4,591,127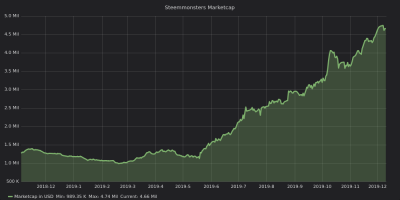 Less than 24 hours ago I reported the Splinterlands Total Market Cap to be at $4,669,493. Today we see that number changed to $4,591,127 which is about $80000 in in the wrong direction. As I note in almost all these reports, I predicted we see a Splinterlands market cap at $5 Million before we reach 2020. I still think its possible that it happens but the last 24 hours has certainly been a set back for that prediction. I look forward to seeing what the next 24 hours brings.
Click here to start playing or investing in Splinterlands today!
---
For those playing or plan on playing the Battle-Steem game I launched on 12/10/2019 this post will provide a significant hint as to where to find my ships. More accurately put, this hint will tell you at what Grid Numbers to not fire at. To visit the game click anywhere on this highlighted area.
Battle Steem Hint
The graph locations K - L - M and N have no ships located on them.
Current Winners + Available Prizes Can Be Seen Below
Prize
Winner + Prize Location on grid
Ammo (Fire Two More Shots)
Ammo (Fire Two More Shots)
Airstrike (Fire Three More Shots)
@cloudblade (J-3)
Airstrike (Fire Three More Shots)
Sea Monsters (Splinterlands Card)
@minimining (C-5)
Sea Monsters (Splinterlands Card)
@monsterbuster (B-2)
Sea Monsters (Splinterlands Card)
@monsterbuster (C-9)
BICERATOPS (Splinterlands Card)
@darthgexe (A-3)
BICERATOPS (Splinterlands Card)
@quantumdeveloper (F-4)
1 of 3 1000 TROLL Tokens
@yorra (A-6)
1 of 3 1000 TROLL Tokens
@gratisuntamed (G-10)
1 of 3 1000 TROLL Tokens
@monsterbuster (E-1)
500 UFM Tokens
@monsterbuster (B-6)
500 UFM Tokens
500 UFM Tokens
500 UFM Tokens
250 DEC Tokens
250 DEC Tokens
500 SPT Tokens
500 SPT Tokens