Hello and welcome to this SPinvest post
SPinvest is a tokenized investment fund/club for all users of the STEEM blockchain. Everyone is welcome! The concept of SPinvest is to get rich slowly by using time tested methods of earning, saving and compounding long term. We encourage long term investing on and off the STEEM blockchain. We hope someday everyone will HODL some SPI tokens that can be bought directly from @spinvest are through the steem-engine are dex.steemleo exchanges. Full details about SPinvest can be found here
.
100% BuyBack Liquidity offered
Buy and sell back SPI tokens on the Steem-engine are Dex.steemleo exchange's
---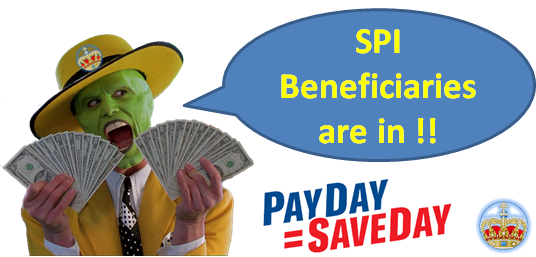 Here we are on the 3rd PAYDAY for SPI Beneficiaries. It very simple to take part and convert a percentage of your post payouts into SPI tokens by adding @spi-payments as a beneficiary while writing your post. It's a simple 3 part process, check out the visual below.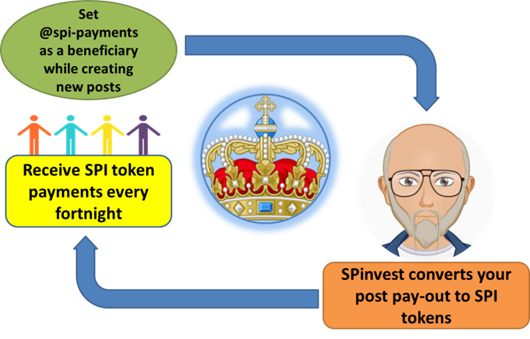 This fortnight we have seen 12 different users using the service with a couple of new ones. It's great seeing new users. I mean i like seeing confirmed members but a new user could be a new investor. You know what i mean. We did not collect as much this time round but the word will spread as time goes. I could promote it harder are do weekly payouts i guess to give to get more eyes on it. We collected a total of 235.24 STEEM. I will issue out the SPI tokens as soon as this post is uploaded. Fingers crossed everyone holds them.
This fortnight's Payout Table

If your name is on the list and you have used SPI beneficiaries, thank you very much. You can see the amount of SPI tokens you are owed by checking out the last column.
You can find out FULL details by clicking here. There is step by step guides and good Q&A in the comments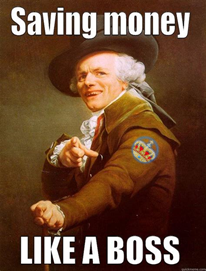 ---

Buy SPI tokens directly from @spinvest. Each token is currently priced at 1.00 STEEM and you can send any amount directly to @spinvest and i will issue you SPI tokens to 2 decimal places for the value of STEEM to send. All tokens bought directly will be sent to investors SE wallets within 24 hours but most likely much sooner.


---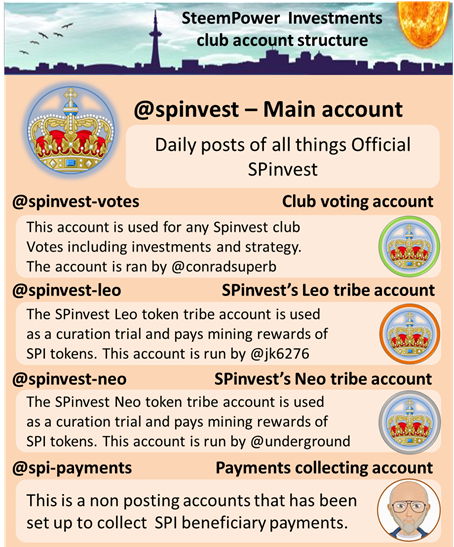 Important Information
| Information | URL Link |
| --- | --- |
| SteemPower Investments Introduction Post | Click HERE |
| SteemPower Investments Club Partnership Agreement | Click HERE |
| How to become a club member | Click HERE |
| How to convert SE tokens into SPI tokens | Click HERE |
| Join the SPI club Discord server | Click HERE |
| Join the SPI curation trail | Click HERE |
| What's best for the SPI Club? Centralized vs Decentralized | Click HERE |
| SPI tokens 95% buyback guarantee | Click HERE |
| SPI Club monthly Fiat to SPI token group buy | Click HERE |
| | |
| | |
All questions are welcome, please ask in the comments below


CLICK here for full details about SPI beneficiaries
Show support to SteemPower Investments through it's Patreon Page
Click here to join the SPinvest community over at beta.steemit.com (Steemit Communities)

Posted via Steemleo