Welcome to this weeks @spinvest-leo update.
35% ROI.
Yup, you read that correctly. With the current dip in the price of LEO, the returns on offer by delegating to this account are around 35%. Quite simply - 900 LEO delegated would earn 1 SPI per week (worth 1 STEEM at the moment) or 52 STEEM value per annum (ignoring SPI revaluations). LEO is currently around 0.165 STEEM - 900 is 148.5 (if you can get them for that price). 52 STEEM value return on 148.5 investment = 35% ROI.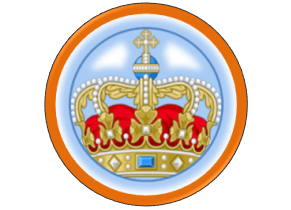 Still profitable.
Even with this very high payout rate, we are still making a profit. Despite the fall in LEO, we have still earn't over 60 STEEM (equivalent) in income, excluding transfers from @spinvest.
More growth to come.
Spinvest has transfered over a decent amount of CTP tokens. These have been staked and put to work. I have also delegated some JAHM tokens and added Reggaesteem authors to the list receiving regular upvotes. These two additions should flow through next week and boost non-leo income.
LEO has dropped.
The price of LEO tokens has dropped again this week, and are currently trading around 0.165 STEEM. This highlights that the tribe token market is still volatile, and is an ongoing risk factor for our earnings. That said, I don't believe this price will stay for long, and it looks like a bargain to me.
STEEM Power delegation.
This week, I hit up Mr Spinny for an SP delegation. The reason for this was not because I was running out of RC's. The reason was that Steemauto (the autovoter service I am running @spinvest-leo with) has certain SP requirements to issue smaller votes. To curate across multiple tribes, I needed to add more SP. At the same time I wanted to remove my personal SP delegation. @silverstackeruk obliged, and @spinvest has delegated 2000 SP to this LEO account, to enable me to go nuts with the autovoter, and tribe token multiplier tool I am using.

None of this is financial advice, just my personal thoughts. Do your own research.

The numbers: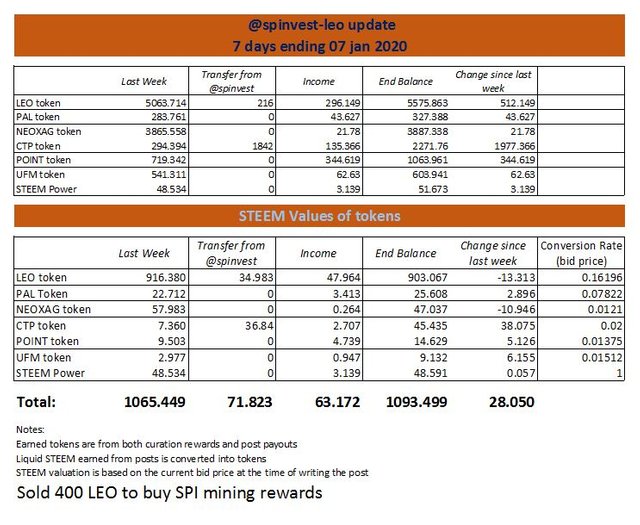 Highlights.
63 STEEM value income - NET.
Sold 400 LEO to pay for SPI.
Spinvest sent 1842 CTP tokens.
Doubled our POINT holding since airdrop.
Changes to voting pattern starting to flow through.
Nice sized payout from last weeks post helped - Thanks to support from @neoxian and the Neoxian tribe. The NEOXAG component of that vote isn't reflected in this report and will show up on next weeks post.
Non-LEO income of 15 STEEM value.
Delegator payouts: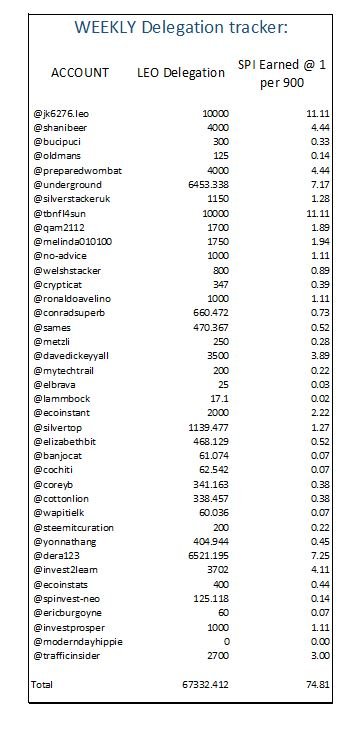 ---
If you have not heard of @spinvest-leo before, what we do is accept delegations of LEO power, and pay a weekly passive return with SPI (spinvest) tokens. The return is calculated on 1 SPI per 900 LEO delegated per week. Any amount over 9 LEO can be delegated, for a weekly payout. The main @spinvest account transfers it's LEO earnings to us for now to assist the growth of this account. The asset base we are building here from surplus earnings above the mining payouts are added to the Spinvest asset base, increasing the value of the tokens you earn.
Thanks to everyone supporting this program, especially the delegators. Don't forget, when making a delegation, please DO NOT put the @ sign in, it leads to an outbreak of boils on your face. (or at least the delegation doesn't work). ;-)
New delegations, or increased delegations always welcomed. You can delegate any amount, however 9 LEO would be the minimum to receive a weekly payout. If these are you first SPI tokens, feel free to ask any questions and check out @spinvest for more information.
Supporting the following accounts will support the Spinvest tokens growth:
@spinvest - the main account.
@spinvest-leo - this account.
@spinvest-votes - separate account to coordinate club member votes on a regular basis.
@spinvest-neo - Account for NEOXAG delegations.
Cheers,
JK - aka @jk6276, @jk6276.leo and other similarly named accounts :)
---
Posted via Steemleo | A Decentralized Community for Investors