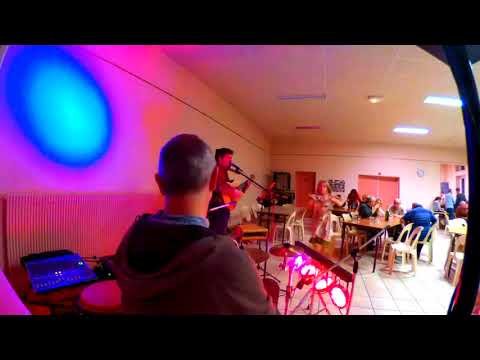 ---
[FRA]
Ici c'est l'hymne français, le vrai, cette chanson décrit l'âme de la France. J'habite en France et je constate à quel point c'est important l'amitié en France, la culture "apéro", quand les gens se retrouvent pour discuter autour d'un verre. Pendant ces CoviDays, cela leur manque, ils ont donc commencé à le faire par appel vidéo. Je partage donc cette chanson. Les copains d'abord, nous l'avions jouée il y a moins d'un mois.
[ENG]
Here it is the french hymn, the real one, this song describe the soul of France. I live in France and I notice how much it is important friendship in France, the "apero" culture, when people meet to chat around a drink. During this CoviDays they miss this, so they've start doing by video call. So I share this song. Friends first, we played less then one month ago.
[ITA]
Ecco l'inno francese, quello vero, questa canzone descrive l'anima della Francia. Vivo in Francia e noto quanto sia importante l'amicizia in Francia, la cultura "apero", quando le persone si incontrano per chiacchierare attorno a un drink. Durante questo CoviDays manca questo, quindi hanno iniziato a fare videochiamate. Quindi condivido questa canzone. L'amicizia per prima, che abbiamo suonato meno di un mese fa.
The Comrades Aboard
No, this boat was no wicked raft
Of the Medusa, that black craft
Let it be known in all the ports
Let it be known
She sailed like the Père Peinard
Tranquilly on the grand duck pond
And called herself the Comrades Aboard
The Comrades Aboard
Her fluctuat nec mergitur
Was no literary yarn
Whatever spellbinders believe
May have you believe
Her captain and seaworthy men
Were not the sons of ruffians
But bona fide friends of free port
First comrades aboard
'Twere no friends of luxuriant means
No pampered Castor and Pollux
Nor folks of Sodom and Gomorrah
Sodom and Gomorrah
'Twas neither a group of friends picked
By Montaigne and La Boetie
They tapped each other heartily on the belly
The comrades aboard
They were no angels either
Of the Gospels, they'd not read a line
But they all loved each other well,
It showed in the sails
John, Peter, Paul and company
Was their only litany
Their Credo, their Confiteor
The comrades aboard
The smallest shot from Trafalgar
And it was friendship at the helm
It was friendship that pointed north
That pointed them north
And when they were in some distress
Their arms would wave an S.O.S.
You'd have taken them for semaphores
The comrades aboard
At their reunions of close chums
There wasn't often a no show
If one was missing on board
It's because he was dead
Yes, but never ever
Will they close the books on his watery grave
One hundred years after the rascal's fate
He will still be missed
I've sailed with many a ship before
But the only one that's held firm
The one that's always held her course
Always held her course
Sailed like the Père Peinard
In all tranquillity on the grand duck pond
And called herself the Comrades Aboard
The Comrades Aboard
https://lyricstranslate.com
---
▶️ DTube