Tremella Soup with Rock Sugar
Rock sugar Tremella soup is a healthy dish,
It is rich in "polysaccharides" and "glia" and "vitamin D" and "selenium", and has very low calories.
Functional enhancement, such as improving the liver's detoxification ability, preventing the loss of calcium, helping growth and development, and strengthening the body's anti-tumor immunity
It tastes refreshing, but the taste is not special, and there is no unique fragrance.
Yourself to cook this dish of step :
Wash the white fungus with water.
Cut into small pieces.
Using a soup pot, add white fungus and water.
Heat over medium heat.After boiling, turn to low heat and simmer for 10 minutes.
Add rock sugar and cook for 5 minutes.
Personally suggest that after boiling, it can be in 15-20 minutes, and rock sugar can be added in the last 3-5 minutes.
It is best to add no sugar, but this material is less tasteful. Some people will add sugar. If you want to add, a small amount is good.
For example, I personally don't add sugar, as long as I eat habits.
It is better to use rock sugar whenever possible.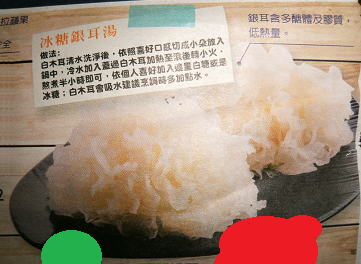 冰糖银耳汤
冰糖银耳汤是一道健康的菜肴,
它富含"多醣体"和"胶质"和"维生素D"和"硒元素",
功能增强体质,可以提高肝脏的解毒能力,防止钙的流失,有助于生长发育,还可以加强人体的抗肿瘤的免疫能力。
它吃起来的口感爽口,但味道并不特别,没有独特的香味。
自己烹饪此道菜肴的步骤如下:
将白木耳用清水来清洗干净。
切成一小块一小块的。
使用汤锅,加入白木耳和清水。
用中火加热,待煮沸之后,转成小火,在熬煮10分钟。
加入冰糖,在熬煮5分钟,即完成。
个人建议,煮沸之后,在15〜20分钟即可,而冰糖在最后3〜5分钟来放入。
能不加糖是最好的,但此料里较没味道,有人会加糖,要加的话,少量就好。
例如我个人就都不加糖,只要吃习惯就可以了。
尽量使用冰糖会比较好。