Glass fruit plate / cutting board / trash bin
Today from the pot at home,
Picked a few more oranges,
Cut one to eat,
I use this appliance,
this is a glassware,
it is very easy to use,
it is a fruit plate,
Also is a cutting board,
Also is a trash can.
Put fruits in glassware,
Use a fruit knife to cut the fruit,
The dregs after eating are also placed inside,
One glassware is done all work.
This is a glass product.
So I can do it like this.
If your is a regular ceramic plate,
It is not possible to cut fruits on it.
Because that ceramic is painted, it cannot be scratched.
Ceramic paint is inedible.
This glass product is pure natural glass, and its hardness is greater than ceramics.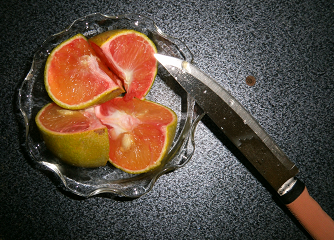 玻璃制的水果盘/切菜板/垃圾桶
今天从家里的盆栽处,
又采了几个柳丁,
切了一个来吃,
我使用这个器具,
一个玻璃器,
非常的好用,
是水果盘,
也是切菜板,
也是垃圾桶.
将水果放在玻璃器之中,
用水果刀来切开水果,
吃完的渣渣也放在里面,
一个搞定.
我这个是玻璃制品,
所以可以这样子做,
如果你的是一般的陶瓷盘,
是不可以在上面切水果的,
因为陶瓷有上漆, 它是不能受到刮伤的,
陶瓷漆是不可食用的.
这个玻璃制品, 是纯天然的玻璃, 且硬度也大于陶瓷.