aerobic exercise - Arm bending sport
This aerobic exercise exercises the muscles of the arm,
And add Breathing with chest.
Especially the elderly,
After getting older,
The strength of the limbs will deteriorate,
Breathing in the chest becomes worse.
So in normal times,
Do this aerobic exercise.
Do left and right hands separately,
10 ~ 20 times each.
I was holding dumbbells during the curls,
Without dumbbells,
You can use a grip-type empty bottle instead.
Dumbbells don't need to be heavy,
Can use an empty bottle of water,
This movement mainly lies in the regulation of breathing,
Breathing is deep breathing,
Inhale air into chest.
The action is as follows
Standing upright,
Hold the dumbbell with one hand and lift your arm up,
Inhale at this time,
Then the arm goes down,
Exhaling at this time,
This way,
After about 10 to 20 times,
Change hands.
sport slower,
With the speed of breathing,
Do not breathe too fast,
Take a deep breath.
Inhale for about 8-12 seconds,
Exhale for about 6 to 10 seconds.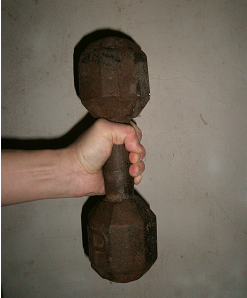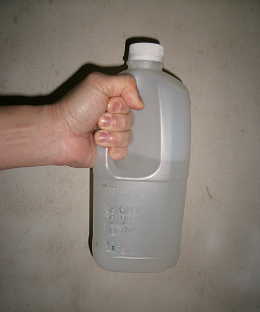 有氧运动 - 手臂弯举
这个有氧运动在锻炼手臂的肌肉,
和扩胸肌的呼吸.
尤其是老年人,
年纪大了之后,
4肢的力量会退化,
胸部的呼吸会变的较差.
所以在平常的时候,
要做一下这个有氧运动.
左右手分开做,
各10~20下.
弯举的时候是拿着哑铃的,
没有哑铃的话,
可以拿握把式的空瓶来替代.
哑铃不需要很重,
用空瓶装水即可,
这个运动主要在于呼吸的调节,
呼吸是深呼吸,
要将气给吸到胸腔以下.
动作如下
身体垂直站立,
单手握着哑铃,举动手臂向上,
此时为吸气,
接着手臂向下,
此时为吐气,
这样子为一下,
约做10~20下之后,
换手。
速度要慢,
配合着呼吸的速度,
呼吸速度不可太快,
要深呼吸.
吸气约8~12秒,
吐气约6~10秒.